Not to many people outside of Missouri know about Jim the Wonder Dog but around here he's something of a local legend.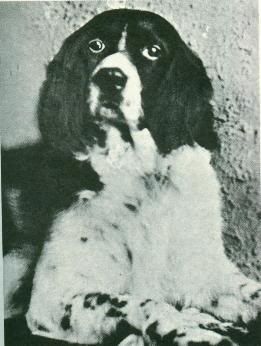 Jim the Wonder dog was an English Setter born in Mar. 10, 1925 and whom died in Mar. 18, 1937. His owner Samuel Van Arsdale, noticed something special about Jim early in his life when he was on a hunting trip and happen to tell Jim to go sit under a hickory tree. Immediately the dog went to a hickory tree and placed his paw on its trunk. His owner thought it was surely a coincidence so he then asked Jim to show him a black oak tree and Jim did! Then he identified a walnut, a cedar and a clump of hazel bushes.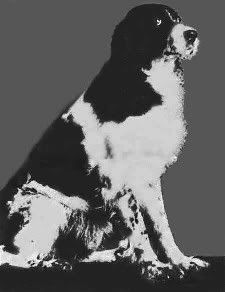 In his lifetime Jim was able to predict the winner of seven consecutive Kentucky Derbies, the 1936 World Series and the 1936 presidential elections. He could answer almost any question in a variety of different languages, understand morse code, and most amazingly, he could predict accurately the sex of an unborn infant. Jim was able to pick out colors a person was wearing, although dogs are apparently color-blind. He could identify a car by its owner, color, make, or license plate number. He could pick out a variety of trees or shrubs, name of a business, or the occupation or home of a stranger. As Jim could not speak, a variety of answers were written on slips of paper even in different languages and Jim would always pick out the correct one.

In a attempt to convince the scientific/educational community of Jim's powers, Jim's owner arranged for a demonstration at the University of Missouri. Dr. A. J. Durant, a veterinarian, and Dr. Sherman Dickinson of the College of Agriculture supervised the performance, which Paramount Motion Picture Corporation filmed. After a thorough examination, Dr. Durant announced that physically Jim appeared to be no different from any other English Setter. The test included the usual routine of identifying trees, license numbers and various colored objects, except this time some professors spoke in English, some in French and others in German and Italian. Jim made a perfect score, much to the surprise of most everyone but himself and his owner. Professor Dickinson concluded Jim was the smartest dog he had ever seen, but Dr. Durant remained a skeptic. Later he decided Jim possessed some occult power.

Although Jim could apparently predict the outcome of any future event with certainty, Van Arsdale refused to take advantage of any of this knowledge by betting; neither would he permit anyone else to reap a profit from Jim's uncanny ability. At one time Van Arsdale was offered $665,000 if he and Jim would work in the movies for one year. He turned down the offer with this explanation:"I feel that Jim's powers are beyond my comprehension, and I do not care to commercialize on them in any way." It seemed that Jim could do everything well. For this reason, he was insured for $100,000 against accident. He was the most famous hunting dog of this century — during his career more than 5,000 birds were shot over him.

Eight days after his 12th birthday, Jim's master took him for an outing at the Lake of the Ozarks. Jim always liked the great outdoors, and once the car door was open he ran down the hill toward the lake. But before reaching the water he collapsed and sank to the ground. Quickly Van Arsdale determined his faithful companion was gravely ill and immediately took him to a veterinary hospital in Sedalia. Jim died in Sam's arms before a doctor could examine him.

Because Van Arsdale considered Jim one of the family, he tried to arrange for his burial in the family plot in the Ridge Park Cemetery in Marshall. The authorities would not permit this, so he was buried, in a specially built casket, just outside the cemetery gate. There was a large gathering of friends at the ceremony. Ironically, the cemetery has since been enlarged and Jim's grave is now within its boundaries. In 1999 Marshall, MO erected a small memorial park called "Jim the Wonder Dog Memorial Park."



Read more articles about Jim:
Jim the Wonder Dog
Wonder Dog
From the Shadows