Alright, I'm new. I joined because of the spotlight, but that doesn't automatically make me an idiot. I checked the tages and there's nothing about these guys anywhere. In fact there are hardly any horse entries at all, which is surprising. Anyway, I hope you enjoy this post (cut pretty much verbatim from my own journal from September last year). Yes, there's more than one breed of horse mentioned, but they're all connected, as you'll see from the post. The discussion I read a few posts back seemed divided as to whether or not the poster or the mods tagged the post, so I haven't - if I should, I will.

Anyway...A breed of horse I only found out about fairly recently: The Moyle. And what's so interesting about Moyle horses, you ask?

They have horns.



Admittedly, they're tiny little things, little bumps or "bosses", generally on the forehead, sometimes singly, sometimes in pairs. The Moyle breed originated from Idaho, USA, developed by one Rex Moyle as light riding/endurance horses, and descended from Spanish mustangs. They started in the mid-20thC, and it seems that though they're very rare, there's still a herd in Oregon today. Little is known about them; one site mentioned that they have slightly different conformation - forward-set, freer-gliding shoulders that make for a smooth gait. They're usually bay or brown, and have livers and spleens twice the size of other horse breeds, including their original Mustang stock.
They look like this:


And here's a close-up head from a sculpture by Kathleen Moody (which was how I found out about these guys).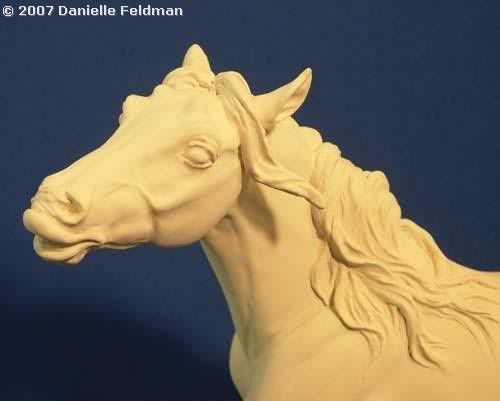 What's really quite interesting about all this, is that the Moyles are descended from mustangs, who in turn are descended from Spanish stock. A little more research reveals that Carthusian horses (Andalusians, Lusitanos and other Spanish/Iberian types bred originally by the Carthusian monks) can also have "horns". Either one under the forelock, like this guy, an Andalusian stallion called Merlin, or twin buds on the forehead, like the Moyle pictured, or sometimes on the ear. The longest recorded horn was 10cm long, on the forehead, and spiralled.

Andalusians and Lusitanos are beautiful horses, two of the world's most beautiful breeds. They are generally grey, bay or black, and almost always go pure white with age. They have wonderful long, thick manes and tails, proud, crested necks, and a marvellous, flamboyant gait, perfect for haute ecole or dressage. The look like this: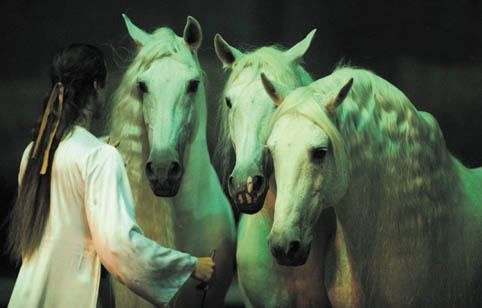 They also look like this - the unicorns in Legend were Andalusians.


Photographer Robert Vavra used Andalusians - particularly a beautiful white stallion named Majestad as the models for his book, Unicorns I Have Known:



They've always been our perfect unicorn horses. And it seems now, that there's a good reason for that.