Ok guys, I have been part of the community since the day it was made. Today I have decided to bring back our beloved mascot and shed light on him since everyone in this community fucking FAILS to read the tags and check the memories etc etc.

I am going to combine the entries for this guy and place him on this page. Tet, Blash, and whoever the other mod is, I do hope you allow this as this has NOT been reposted since 2007 and I am fucking awesome.


First off: The Potoos (sometimes called Poor-Me-Ones) are large a family of near passerine birds related to the nightjars and frogmouths.

These are nocturnal insectivores which lack the bristles around the mouth found in the true nightjars. They hunt from a perch like a shrike or flycatcher. During the day they perch upright on tree stumps, camouflaged to look like part of the stump. The single spotted egg is laid directly on the top of a stump.

There are seven species in one genus in tropical South America.

The babies look like this:



And the adults look like this:




They also sound like this:


From Encyclopedia Britannica: human lament of the common potoo (Nyctibius griseus) in South America has in some places earned this species the name "poor-me-one," and both it and the grotesque bawl of the great potoo (N. grandis) have been the source of many superstitious beliefs and legends. Frogmouths sing with various nasal booming, hooting, or croaking sounds.

There's also a link on this website, of bird calls being used as car alarms. If you click where it says "variations 1," the Great Potoo is the third call in the series.

http://www.npr.org/programs/atc/features/2002/july/car_alarm/index.html

EDIT: If you're wondering how they camoflauge with their giant eyes, here is a link with the ever so sexy David Attenborough explaining it:

http://youtube.com/watch?v=MK6nlsOZpuU






Now, as you may or may not know (You probably don't) I have been a HUGE advocate to get our mascot renamed to Eroy, as Pablo and Party Potoo does NOT Suit this guy as all.




"HEY EROY?"
"WHAT?"
"HI"
"HOW THE FUCK YA DOIN?!"
"NOT BAD, YOU?"
"PRETTY GOOD, BEEN SITTING HERE, ACTING LIKE A TREE, YA KNOW THE DRILL"
"OH HELL YA MAN. RIGHT ON"

Can you REALLY see Pablo saying that? That is TOTALLY an Eroy type of thing to do. So BLASH I DEMAND A RECOUNT TO THE POLL THAT WAS DONE IN 2007 AND GET THIS GUY CHANGED BACK TO EROY >:O!

One more edit for this picture: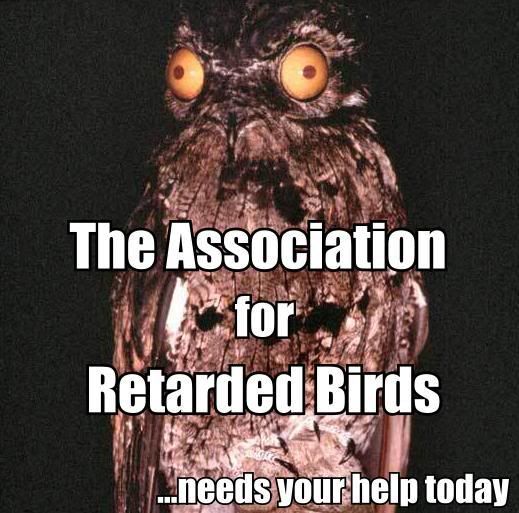 Now I bid you all a good day, and to all the newbies here: READ THE FUCKING TAGS AND CHECK BACK MORE THAN "A FEW PAGES" YOU LAZY FUCKS! AND DON'T DELETE YOUR DAMN POSTS!!!! CHECK THE FUCKING RULES

ANOTHER EDIT: I have since gone over some things and have come to the conclusion, with the help of
nosyparker Eroy shall hence have a middle name. He will now be called Eroy Archimedes the 3rd.

Thank you.