Hymenoepimecis Wasp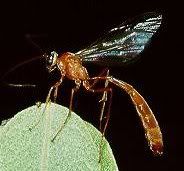 A parasitic wasp has been found to 'drug' its spider host, inducing it to weave a special cocoon-like structure for the wasp's own ends.

A report in this week's journal Nature describes how the female Hymenoepimecis wasp attacks the Plesiometa argyra spider at the hub of its orb, stings it into temporary paralysis and lays an egg on the spider's abdomen which hatches into a larvae that grows by sucking the spider's fluids.

"On the night that it will kill its host, the larva induces the spider to build a cocoon web, moults, kills and consumes the spider, and then spins its pupal cocoon hanging by a line form the cocoon web," writes William G. Eberhard, of the Smithsonian Tropical Research Institute.

http://www.abc.net.au/science/news/stories/s154197.htm



Spider Wasp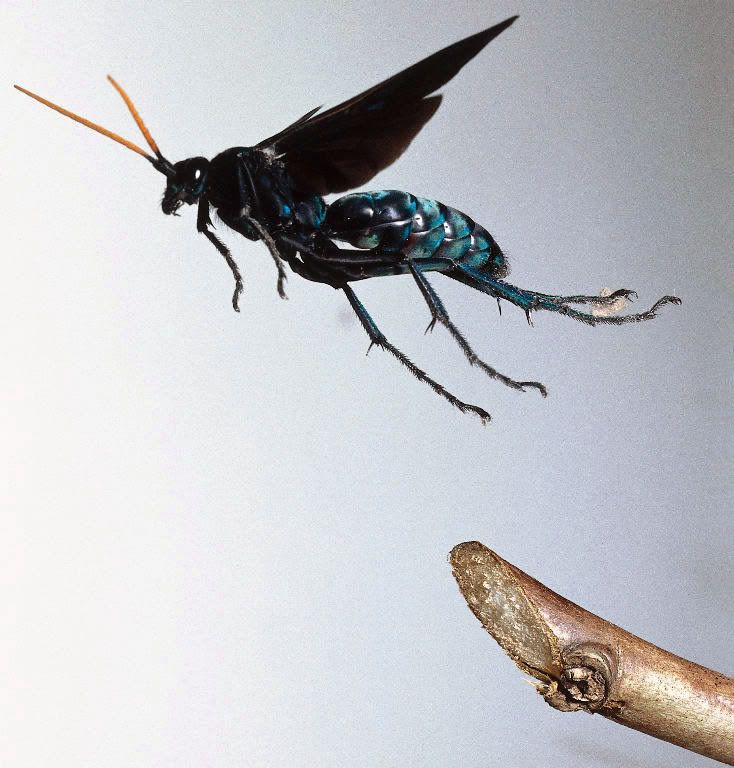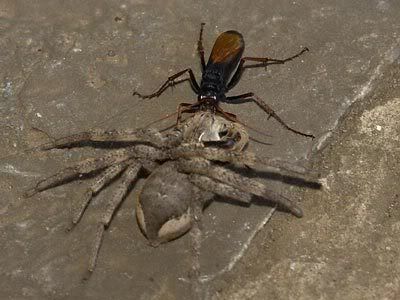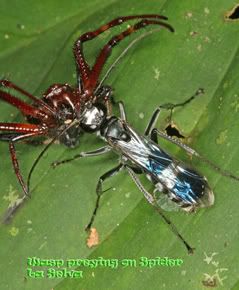 A spider wasp quickly subdues the spider it preys on. The wasp's sting affects the spider's central nervous system, paralyzing but not killing the spider. Often the spider is too large to carry in flight and the wasp must drag it to the nest. Some species bite off the spider's legs to make it easier to drag and may drink blood that leaks from the wounds. The spider wasp places a single spider in each nest, which is often constructed after catching the prey. Some species specialize on trap-door spiders and tarantulas, using the spider's own burrow for a nest. The wasp lays an egg on the paralyzed spider, which is eventually eaten by the wasp's larva.

http://www.everythingabout.net/articles/biology/animals/arthropods/insects/wasps/spider_wasp/



And one of the scariest looking spider wasps:

Tarantula Hawk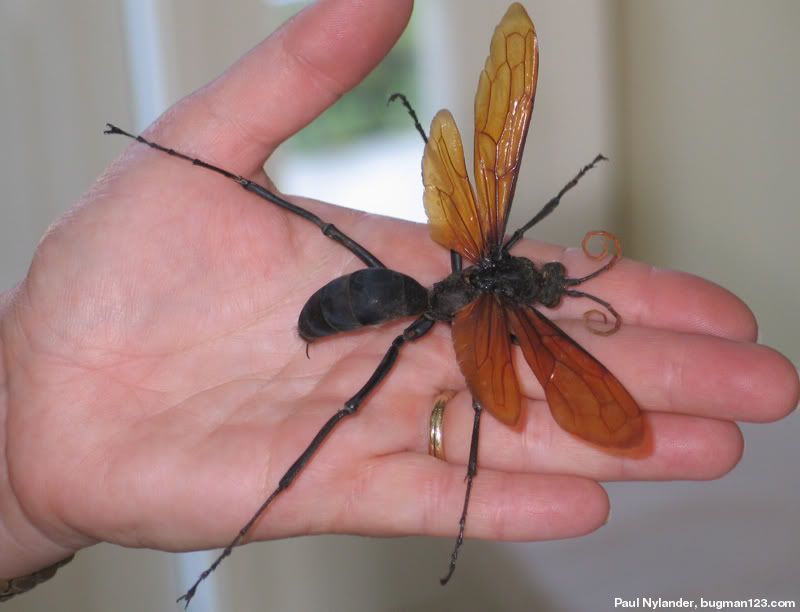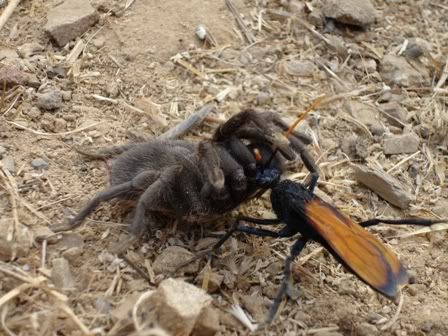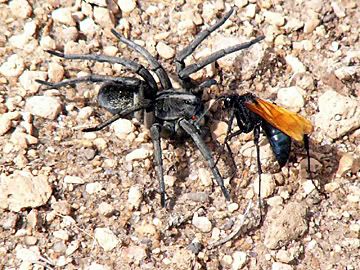 Tarantula hawks get their name because the females hunt Tarantulas (Family Theraphosidae), huge, hole-dwelling spiders that are common here in the desert. Once a female tarantula hawk finds a tarantula, she will then attack the spider and sting it. The tarantula hawk's powerful venom paralyzes the tarantula, and the wasp then drags the spider back into its hole. The tarantula hawk then lays an egg on the still living, but paralyzed tarantula, and she then seals up the spider hole and departs in search of another victim. Once the egg hatches, the larva will feed on the still paralyzed tarantula, eventually killing it.

http://fireflyforest.net/firefly/2005/11/13/tarantula-hawks/





I put little snippets of text from the websites for people who don't like links.

I also scrolled back over 200 entries to make sure this wasn't a repost. However, I am lazy and possibly missed it so let me know if it is a repost.