My boss showed me this at work...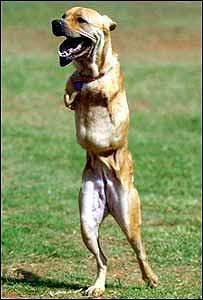 http://www.washingtonpost.com/wp-dyn/content/story/2008/03/28/ST2008032804068.html
"The 5-year-old was born with a shriveled left leg that flopped behind her and had to be removed and a legless, partial right paw with two nails she still hates getting clipped. There is an industry of rolling aids for disabled pets. But peanut butter on the end of spoon and tossed gummy bears got Faith up off her chest."
http://www.yourdailymedia.com/media/1144017524/Faith_The_2_Legged_Dog