When I was a WEE lad living in the hills of Northwest Georgia I would come across these nifty little gals quite often.




Mutillidae or velvet ants, are a family of wasps which resemble ants, and belong to the same superfamily. The velvet ant name refers to their hair which may be red, black, white, silvery or golden. In some places they are also known as cow killers or cow ants.

Their integument is very tough and roughly textured, providing protection against the stings of the wasps and bees whose nests they invade. As in other related families in the Vespoidea, the males have wings, but females are completely wingless. They exhibit extreme sexual dimorphism; the males and females are so different in appearance that it is, in fact, almost impossible to associate the two sexes of any given species, unless they are actually captured in the act of mating. In a few species, the male is so much larger than the female that he carries her aloft while mating (also seen in the related family Tiphiidae).

They are known for their extremely painful sting, the venom of which was jokingly stated to be powerful enough to kill a cow, hence the nickname "cow killers." Additionally, it has been stated cows occasionally would be stung while rolling in the sands of Florida. The resulting sting would fester, allowing the screw-worm fly to enter the wound. This would result in the death of the cow. The name hung on to the velvet ant even after the screw fly was eradicated in Florida in 1982. As with all Hymenoptera, only the females sting, and like all other wasps, they can sting multiple times. If handled, they also have a structure called a stridulitrum on the metasoma which they use to produce a squeaking, chirping sound (more like a high pitched hum) to warn would-be predators.

The family can be recognized best in the female; they are the only wingless female wasps that have hair-lined grooves on the side of the metasoma (called "felt lines") and in which the segments of the mesosoma are all fused dorsally. Only one other vespoid family (Bradynobaenidae) has felt lines, but the females have a distinct pronotum and an elongated ant-like petiole. The earliest-known velvet ants are believed to be specimens from the Dominican Republic preserved in amber for some 25 to 40 million years.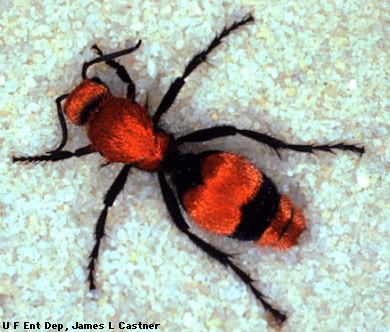 I was trying to find a good reference picture to give an idea of how large these things are but alas...not to be found. Depending on species and size of the developmental host they run anywhere from 1/8" to 1" in length.

And that notion of 'sting painful enough to kill a cow'...yeah I'm still alive after being stung by one but HOOOLLLYYYY FUUUUUUUUUUCK you want to talk about pain? My full-body jelly fish encounter was less painful. :/

~Me